Brandt Indicate 5

pH Indicator, Acidifier, Water Conditioning Agent & Spreader
Available in Quarts and Gallons

Always Fresh New Product
Always Free Shipping
FREE SHIPPING UNITED STATES ONLY (Lower 48 states) on Gallons

Contact us for International Shipping rates.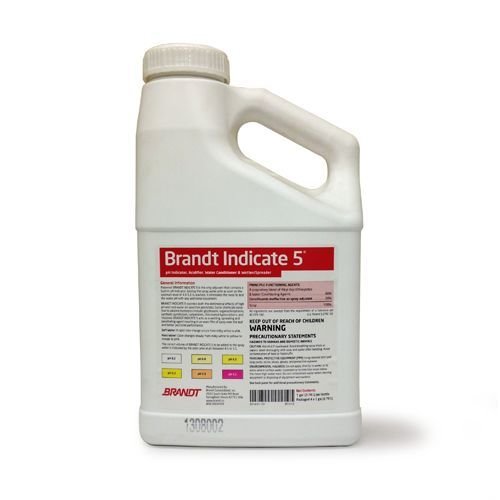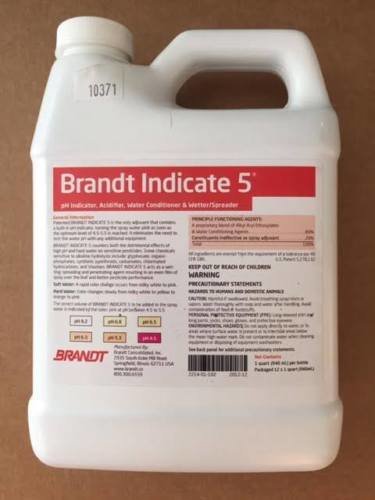 DIRECTIONS FOR USE BRANDT INDICATE 5 is the only adjuvant that contains a built-in pH indicator, turning the spray water pink as soon as the optimum level of 4 .5-5 .5 is reached . It eliminates the need to test the water pH with equipment . This product counters the detrimental effects of both high pH and hard water on sensitive pesticides . Some chemicals sensitive to alkaline hydrolysis include: glyphosate, organophosphates, synthetic pyrethroids, carbamates, chlorinated hydrocarbons, and triazines .
BRANDT INDICATE 5 acts as a wetting and spreading agent resulting in an even film of spray over the leaf and better pesticide performance .
COMPATIBILITY: BRANDT INDICATE 5 is compatible with most fertilizers and pesticides . However, if the desired combination has not been previously used, a compatibility test is recommended .
MIXING: Fill tank 2/3 full of water and begin agitation . Add the recommended amount of BRANDT INDICATE 5 or until solution turns pink for a pH between 4 .5 – 5 .5 . Fill tank with balance of fertilizer or water . Add other chemicals . Continue agitation until spray solution is completely mixed . If the tank mix solution turns clear upon the addition of the remaining chemicals and water, add additional product until tank mix solution turns pink again .
Note: This product has demonstrated excellent plant safety; however not all species of plants have been tested .Before treating a large area, test on a small area and observe results prior to full scale applications . Do not use on aquatic sites .
RECOMMENDATIONS: The correct volume of BRANDT INDICATE 5 to be added to the spray water is indicated by the color: pink at pH between 4 .5 to 5 .5 . Soft Water: A rapid color change occurs from milky white to pink . Hard Water: Color changes slowly from milky white to yellow to orange to pink .

FREE SHIPPING UNITED STATES (Lower 48) ONLY ON GALLONS

Contact us for International Shipping rates.