Dyna-Gro Foliage-Pro®
9-3-6 Liquid Plant Food (8 oz)

Always Fresh New Products
Always Free Shipping United States Only
Contact Us For International Shipping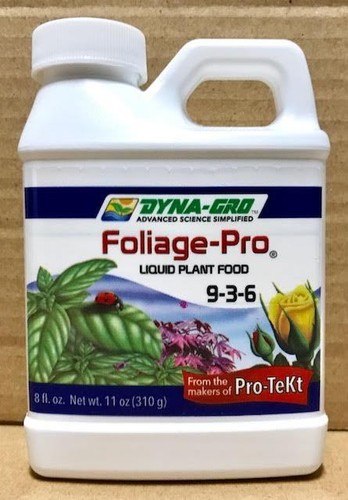 Foliage-Pro® 9-3-6
has the ideal N-P-K (3-1-2) ratio recommended by the University of Florida for tropical foliage plant production. That N-P-K ratio is ideal for a wide range of plants.
Virtually any plant can be grown to perfection with Foliage-Pro®
. The Foliage-Pro
®
formulation contains all 6 essential macronutrients and all 10 essential micronutrients that every plant needs. Foliage-Pro
®
supplies a high nitrate to ammoniacal nitrogen ratio needed to promote shorter internodal spacing resulting in stronger stems. Foliage-Pro
®
is urea free and won't burn your plants.
Because it is complete and balanced
, this unique formulation eliminates salt build-up when used at recommended rates. Foliage-Pro
®
out performs all mere fertilizers in a broad range of growing conditions. Foliage-Pro
®
should primarily be used as a root drench but may be applied as a foliar spray at lower concentrations for a quick fix of
many
mineral deficiencies. Growers of a wide range of plants from back yard gardeners to interiorscapers, landscapers, commercial bedding plant growers and a wide range of others rely upon Foliage-Pro
®
to maintain healthy, controlled growth on all plants including ornamental, fruit and nut trees.
Application Rates:
Maintenance: Mix ¼ tsp. per gallon of water with every watering.
Production: Mix 1 tsp. per gallon of water, once a week. For monthly feeding, use 2 tsp. per gallon of water.
Monthly Feeding: Mix 2 – 3 tsp. per gallon of water.
Hydroponics: Mix 2 – 3 tsp. per gal. of water for recirculating systems or 1 – 2 tsp. per gal. for non-recirculating systems.
Siphon Mixer: (1:15 ratio) Mix 2 – 4 fl. oz. per gallon of water for a concentrate feed solution.
Foliar Application: Mix ¼ – ½ tsp. per gallon of water and spray directly of leaves.
Recommended Crops: Foliage-Pro® works great on all plants, but excels on fast growing heavy feeding plants. These include all tropicals, annual bedding plants, perennial grasses, poinsettias and succulents.
Analysis:
Total Nitrogen (N) …… 9.0%*
Ammoniacal (NH4) …… 2.9%*
Nitrate (NO3) …………. 6.1%*
Phosphorus (P2O5) …… 3.0%*
Potassium (K2O) ……… 6.0%*
Calcium (Ca) ………….. 2.0%*

Magnesium (Mg) …… 0.5%*
Sulfur (S) ……………. 0.05%
Boron (B) ……………. 0.01%
Chlorine (Cl) ………… 0.006%
Cobalt (Co) ………….. 0.0005%*
Copper (Cu) …………. 0.05%*
Iron (Fe) ………….… 0.1%*
Manganese (Mn) .….. 0.05%*
Molybdenum (Mo) … 0.0009%*
Nickel (Ni) …………. 0.0001%
Sodium (Na) ……….. 0.05%
Zinc (Zn) …………… 0.05%*


*Nutrients marked with an asterisk (*) are guaranteed in all states. The other minerals are at concentration levels which are ideal to achieve optimum crop growth but may be below levels to satisfy the labeling requirements of some state fertilizer laws.
Testimonials:


"We have been specifying Dyna-Gro
™
Foliage-Pro
®
for Suncrest
™
Certified Growers for several years now. It is truly Beyond Organic
™
. Our customers absolutely love the flavor of our lettuce and leafy-green produce and I'm convinced it's from the Foliage-Pro
®
nutrient blend. And if you're a grower, I highly recommend working with Dyna-Gro
™
."
SunCrest Farms
" This past year we used Dyna-Gro™ Foliage-Pro® exclusively on all of our spring pansies and violas from the plug stage thru flowering. We were very pleased with the results. There were no signs of nutrient deficiencies, no stretching, healthy root systems and the colors were vibrant. Many customers (mostly independent garden centers) have commented on the quality of our plants, especially compared to other growers. Several of our customers were so impressed that they began using Foliage-Pro® in their operations." OVW Greenhouses
"As several other reviewers have experienced, my Meyer lemon tree was lackluster – with yellowing leaves and very little vigor. I began applying Foliage-Pro® every couple of weeks and the tree nearly jumped out of the pot. Last year I harvested only 11 lemons. This year I pulled 48 off the tree before I brought it in for the winter."
"For about 18 years we have been using many of the Dyna-Gro™ nutrition & rooting solutions and Neem Oil at the Marjorie McNeely Conservatory. Probably 95 % of our plants get the 9-3-6 Foliage-Pro® plus Pro-TeKt® for added silicon. Our floriculture crops and award winning collections such as orchids, bonsai, tropicals, ferns, palms and bromeliads benefit greatly from the high quality and complete fertilizer formulas. We rarely experience nutrient issues, and our root rot problems have gone way down with the addition of the Pro-TeKt® to our feed program. I would be a lost grower without the Dyna-Gro™ products!" Marjorie McNeely Conservatory

Always Fresh New Products
Always Free Shipping United States Only
Contact Us For International Shipping