Hi-Yield Magnesium Sulfate 9.5% (4lbs)
Free Shipping United States Only
Contact Us For International Shipping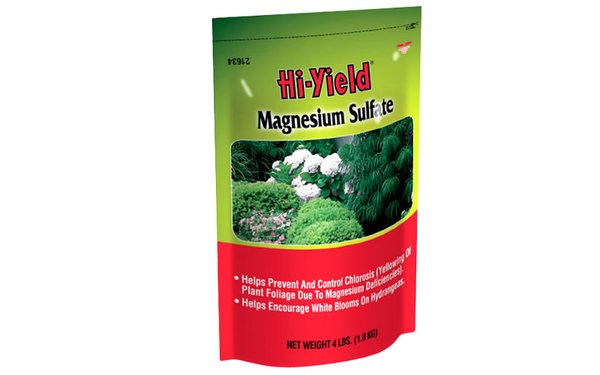 Hi-Yield Magnesium Sulfate is a water soluble source of Magnesium that prevents and controls yellowing of plant foliage due to a deficiency of Magnesium known as  Chlorosis. In addition to correcting Magnesium deficiencies Hi-Yield Magnesium Sulfate will also help turn Hydrangea blooms white. Apply Hi-Yield Magnesium Sulfate as either a soil treatment or a foliar spray. Great for use on palms.
Active Ingredient: Magnesium (Mg) - 9.5% (9.5% Water Soluble Magnesium (Mg))
Sulfur (S) - 12.5% (12.5% Combined Sulfur (S))
For use in: Magnesium deficient plants, hydrangeas, palms
Application: Foliage spray: 2 tablespoons per gallon
Soil application: 1 lb. per 100 sq. ft.
Free Shipping United States Only
Contact Us For International Shipping