Molt-X Botanical Insecticide / Nematicide (Quart and Gallon)

Free Shipping United States Only (Lower 48)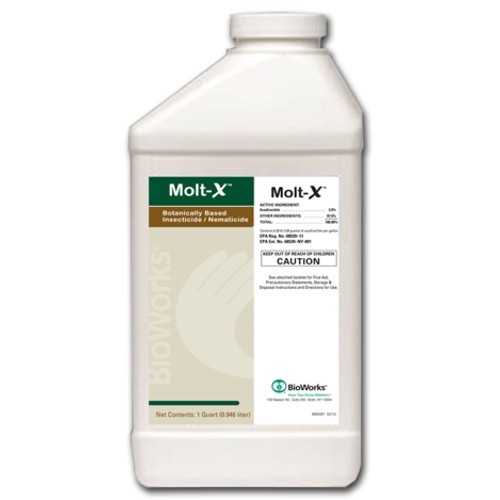 Molt-X™ is an emulsifiable concentrate formulation containing 3% of the active ingredient azadirachtin – the most potent of the insect-active compounds from the neem tree. While it is derived from neem seed, Molt-X is not a neem oil. Molt-X has multiple modes of action, making it an ideal material for an Integrated Pest Management (IPM) program.
Molt-X works primarily as an Insect Growth Regulator (IGR) that disrupts the molting process in insects. Insects treated with Molt-X become sluggish, stop feeding, and fail to mature and reproduce. Molt-X also acts as an insect repellent, antifeedant, and ovipositional deterrent; these multiple modes of action make it a highly effective tool for use in a resistance management program.
Molt-X should be applied early in the pest cycle to prevent the rapid build-up of pest populations. Apply Molt-X when pests are first observed or when conditions are favorable for pest build-up. Molt-X is systemic when drenched and can provide protection against both soil-borne and foliar pests – including both chewing and sucking pests. Like all BioWorks products, Molt-X is safe for plants, workers, and the environment.
Molt-X is compatible with many common chemical insecticides and fungicides. By combining or rotating Molt-X with BotaniGard or SuffOil-X you can design a pest management program that's right for you. Each has a different mode of action, and when used together or in sequence, you can control resistant insects and reduce the likelihood of resistance development. Use the full to one half rate of Molt-X
when tank-mixing with BotaniGard. When tank-mixing with SuffOil-X use the full rate of Molt-X and do not exceed a rate of 1% with SuffOil-X.
Application Rate:
Use at a rate of about 10 ounces per 100 gallons for most applications. See label for more specific application rates.