Bayer Movento MPC Insecticide (Spirotetramat)
 2.5 Gal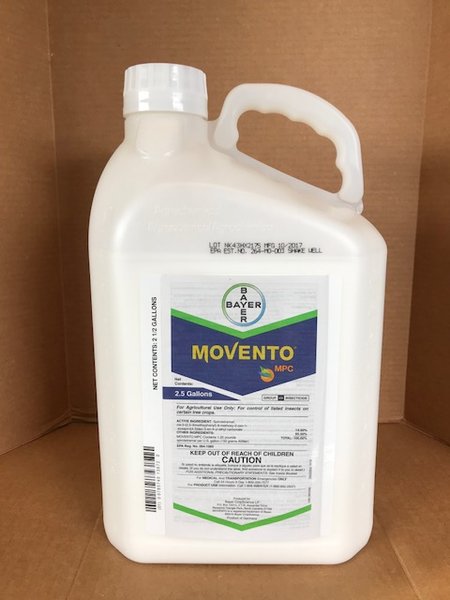 Always Brand New and Fresh Product !!
Always Free Shipping (United States Only)
Product Information
Movento insecticide is a revolutionary tool for managing citrus pests. Its unique two-way movement upward and downward throughout the entire plant tissue system, including the root system, provides long-lasting, reliable, all-over protection above and below the ground. 
Movento has shown excellent results against immature stages of insects. It also manages adult female pests, reducing fecundity and limiting the survival of their offspring, therefore providing more effective overall reduction of pest pressure. The result is healthier, stronger plants. For best results, tankmix Movento with a spreading and penetrating spray adjuvant. Always read and follow label instructions.
Key Benefits
Two-Way Movement - Moves up and down within the plant to provide excellent pest control in dense crop canopies and on plant roots.
High Residual Efficacy - Offers long-lasting protection of new plant growth against top citrus pests.
Integrated Pest Management - Provides minimal risk to natural predators when used as directed.
Long-Lasting Protection – High level of residual efficacy and protection of new plant growth.
Unique Chemistry – Movento has a unique mode of action that becomes active when ingested by insect pests that feed on treated plants.
Key Pests
Mealybugs
Mites
Psyllids
Scales
Always Brand New and Fresh Product !!
Always Free Shipping (Continental United States Only)