SureGuard SC Herbicide

(Pint)
Always Free Shipping United States Only
Contact Us For International Shipping

Always Fresh New Products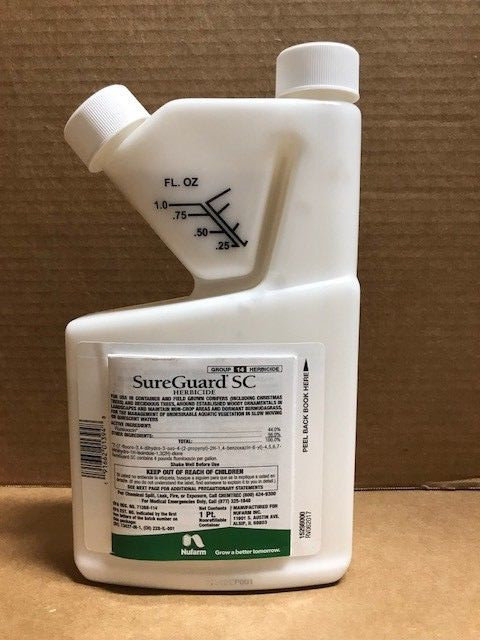 SureGuard SC is a fast acting selective contact herbicide for use in container and field grown conifers (including Christmas trees) and deciduous trees, around established woody ornamentals in landscapes and dormant Bermudagrass, bare ground non-crop areas, and for undesirable aquatic vegetation in slow moving or dormant waters.
SurGuard SC is also effective as a pre-emergent and/or post-emergent herbicide for control of selected grass and broadleaf weeds. It controls weeds by inhibiting protoporphyrinogen oxidase, an essential enzyme required by plants for chlorophyll biosynthesis. Seedling weeds are controlled preemergence when exposed to sunlight following contact with the soil applied herbicide.
Active Ingredient: Flumioxazin - 44%
Target pests: Barnyardgrass*, Bluegrass (Annual), Crabgrass (Large*, Smooth*, Southern*), Dandelion*, Moss, Nightshade, Pigweed, Plantain, Purslane, Ragweed, Spurge, Thistle

For use in: Commercial & Residential:
Container & Field Grown Conifers (Christmas Trees), Broad-leaf Trees, Woody Ornamental Plants in Landscaping, Bare Ground Non-Crop areas, Dormant Bermudagrass and Aquatic Vegetation in Slow Moving Waters
PRE-EMERGENT APPLICATION
Pre-emergent application of SureGuard SC should be made prior to weed emergence. Moisture is necessary to activate this herbicide for residual weed control. Moisture is needed to move this herbicide into the soil for pre-emergent weed control. Dry weather following application of SureGuard SC may reduce effectiveness. However, when adequate moisture is received after dry conditions, this herbicide will control susceptible germinating weeds.
When adequate moisture is not received soon after SureGuard SC is applied to soil, weed control may be improved by using shallow cultivation. If weeds begin to emerge, irrigate (1/2" of water) or cultivate uniformly with shallow tillage equipment that will not damage the crop. Deep cultivation reduces the effectiveness of the herbicide and should be avoided.
Always Free Shipping United States Only
Contact Us For International Shipping

Always Fresh New Products